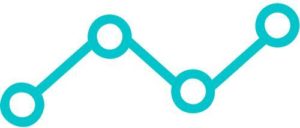 Mass Culture joins people together, ensuring all communities have the ability to mobilize and benefit from arts and culture research.
Through a healthy network and a robust research support system, Mass Culture supports the development and promotion of arts research that will enable Canada's arts and cultural sectors to connect and make informed decisions towards a future in which the arts thrive.
What is Mass Culture?
Mass Culture is a collaborative support organization that  takes a community based approach to providing diverse parties with the context and connections needed to enhance the equitable mobilization of arts and culture research.
At the moment, Mass Culture's goal is to engage the arts community in a dialogue(s) about arts research. Bringing people together to share information on arts related topics that matter to them, builds information pathways that outline the sector's priorities, establishes connections, and ultimately, determines a way forward for Mass Culture as an entity.
Why Now?
In 2012, the Canadian Conference of the Arts closed its operations, which for over 67 years established a strong reputation for arts & cultural policy leadership. With its closing, there was a major gap in Canada for reliable policy information about the Canadian arts sector. Large scale initiatives and an opulence of research currently exists and/or is being generated. What many individuals and institutions across the country are looking for right now are new ways of connecting, thinking and sharing that information.  
What is Mass Culture doing?
Mass Culture intends to enhance, rather than duplicate, efforts through new connections and the promotion of research. Mass Culture will also help identify and fill research gaps where work is not yet undertaken. At the moment, the plan of action is to provide:
Engaged conversation, in-person and online

Learning exchanges, peer-to-peer

Research collaborations, making connections among people and striking up projects  
What is Mass Culture's model?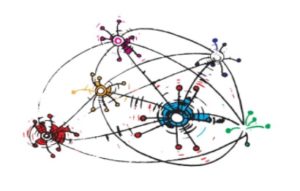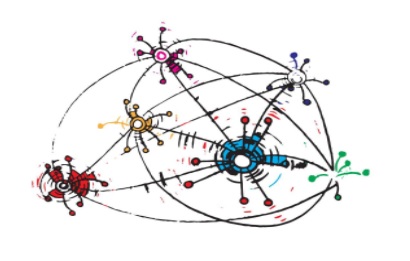 *Visual depiction created by Tara Mazurk & Clayton Windatt
Since 2015, Mass Culture has worked within and been informed by the arts sector, actively creating its network and organizational model. Four years later, with the assistance of graduate students from OCAD's Strategic Foresight and Innovation program, Mass Culture has emerged into a collaborative support organization, connecting those involved in and affected by research efforts in the arts. Mass Culture will continue offering support in advancing dialogue and disseminating information with the purpose of ensuring all communities have the ability to mobilize and benefit from arts and culture research.
Mass Culture is run by an Operations Working Group who is overseeing its development. There are a number of Working Groups engaged on various areas such as network building, engagement practices, communications, and digital strategy.  
What does Mass Culture's Community Engagement look like?
Funding received by the Toronto Arts Council's Open Door Program allowed, from 2018 to 2019, community-centred consultations in the form of casual, gathering-style conversations informed and enhanced a wide range of arts research issues. These gatherings also informed the future of Mass Culture in regards to the types of supports that Mass Culture can provide.
Mass Culture has designed a flexible framework for Gatherings to convene diverse perspectives around a research topic. One goal is that Gatherings result in stronger connections and future conversations on cultural research topics within and across communities.
Mass Culture Gatherings are intended to generate new insights and connections through open and intimate conversations. Gatherings break out of existing silos and offer a diversity of perspectives to the topic being discussed. Hosts are encouraged to consider the diversity of sectors, regions and roles invited to take part in the conversation, and to support critical dialogue on their chosen topic. The Gatherings are an opportunity to bring together local leaders, make new contacts outside their existing network, and provide an open space for discussion.
How does Mass Culture distinguish between research and advocacy?
Mass Culture is primarily interested in building a system for research, as the generation and sharing of information is central to exploring and understanding. By creating a space for professional arts research to be generated without the aim or expectation of a desired policy result, the core integrity of research is maintained. Although Mass Culture's hope is to ensure the usability of research, how research is utilized once produced will have no part in directing the research. While Mass Culture is not an advocacy entity, individuals and organizations who engage in the Mass Culture network may end up using the research for their own advocacy purposes.
How Can I get involved?
As there are so many ways to engage with Mass Culture and everyone is busy, some of the most of the more popular ideas have been consolidated into a Network Connector package. It's a good first step in figuring out how to best connect. Reach out to Kathryn and request a copy – info@massculture.ca