Alternative Federal Budget
Featured on this page are the Culture Chapter from the Centre for Policy Alternatives' Alternative Federal Budget as well as accompanying infographics.
Additionally, you can find video and image responses from the arts sector prompted by discussion points related to the Alternative Federal Budget. These include conversations touching on building back better in the context of individuals in the arts and culture sector, creating value for cultural spaces, expanding community infrastructure to include cultural infrastructure, making activities more accessible to varying communities and understanding how artists can be better supported.
Thank you to those who contributed their time: Ben Dick, Naomi Stokes, Neeha Dsouza, Louis-Etienne Dubois, Amy Gottung, Emmanuel Bochud, charles c. smith and Jason Samilski.
Culture Chapter for the Centre for Policy Alternatives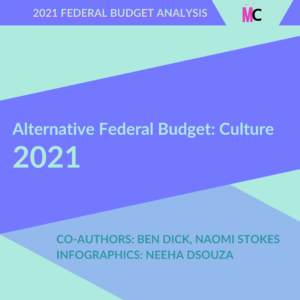 Full Alternative Federal Budget 2022
Responses from the arts Sector and academia
In relation to the current federal budget and what you feel is possible, how can artists be better supported?
Alternative Federal Budget Culture Chapter, 2020
Current Climate of the Arts: 2020 Roundtable
Federal Budget 2021 - Highlights for arts and culture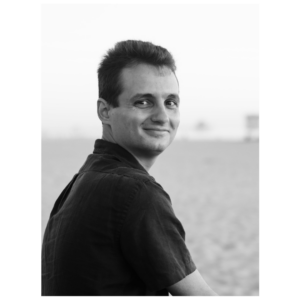 Co-author, Alternative Federal budget Arts Chapter 2021
Ben Dick has been involved with municipal cultural planning, mapping, and research since 2009 – first with the City of Peterborough and now with the City of Ottawa. Some of his past projects include: coordinating the development of a municipal cultural plan for the City of Peterborough; determining the net impact on municipal revenue of Peterborough's Heritage Property Tax Relief Program; leading a cultural mapping project in Ottawa; analyzing the distribution of federal funding for culture; and an analysis of the incomes and diversity of the culture workforce in Canada's major cities. Ben also founded and manages the Ottawa Culture Research Group and is a Mass Culture Research Partner. 
Ben has a BA in economics and cultural management from the University of Waterloo, and an MA in political economy from Carleton University.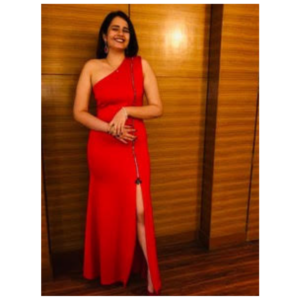 Co-author, Alternative Federal budget Arts Chapter 2021
Naomi Stokes is an international student from the Arts Administration and Culture Management program at Humber College, who was born and brought up in Mumbai, India where she went on to get her Bachelors in Arts degree in Psychology and Anthropology from St. Xavier's College, Mumbai. She has a background in Theatre and she has worked at the National Centre for the Performing Arts in the stage manager and production manager capacity. She has experience in client servicing as she is currently working as a box office associate for Starvox Entertainment in Canada and as has worked as a project coordinator and administrator for Mass Culture, an arts and culture think tank. Her interests include, photography and videography, music and research. She is also, currently part of the Festival Producers and Administers program with Paprika Theatre Festival. Along with her cohort-mates, Naomi was part of a research project in collaboration with Mass Culture that seeked to have conversations with IBPOC leaders that lead IBPOC Art Service Organisations, and bring forward their stories about their impact and contributions to the arts called Woven Histories – IBPOC edition.  Her upcoming projects include, co-authoring a chapter for the Alternate Federal Budget under the mentorship of Ben Dick, and a visual video series in collaboration with Lakeshore Grounds Interpretive Centre which is to be released in early June.