WHAT MIGHT A CULTURAL POLICY HUB(S) LOOK LIKE?
Mass Culture acknowledges the great work that is already happening across our sector. Organizations are conducting research, creating toolkits and reports, and finding creative ways to partner on issues that matter to their communities. Mass Culture intends to enhance rather than duplicate efforts. By tapping into the existing energy, Mass Culture can play a role by connecting and promoting cultural policy research, updating old data, and addressing research gaps that exist across regions, disciplines, and issue areas.
While an organizational model for Mass Culture will be created and refined throughout the 2017-18 consultations, we have a fun, frenetic initial impression of what a highly connected hub with existing organizations and networks could look like: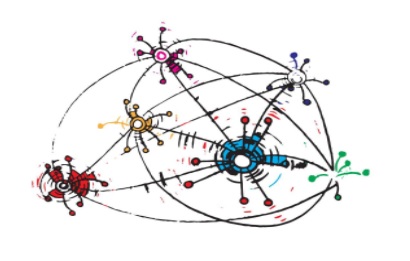 Visual depiction created by Tara Mazurk & Clayton Windatt
Mass Culture is beginning to form additional working groups for a sub-set of various activities. They include the Mass Culture 2018 Gatherings Group; the Network Group; the Communications Group; and the Digital Strategy Group. Visit our "Opportunities" page to learn more and express your interest!
Working Group
Kristian Clarke,  Co-Founder of Mass Culture, PhD candidate in Cultural Studies at Queen's University.
Kate Cornell, Executive Director, Canadian Dance Assembly and Co-chair of  the Canadian Arts Coalition
Tara Mazurk, Consultant, Cultural Industries with Global Public Affairs
Robin Sokoloski, Executive Director, Playwrights Guild of Canada
Clayton Windatt, Executive Director, Aboriginal Curatorial Collective