What might an arts and culture research network look like?
Mass Culture acknowledges the great work that is already happening across the arts and cultural sectors. Organizations are conducting research, creating toolkits and reports, and finding creative ways to partner on issues that matter to their communities. Mass Culture intends to enhance rather than duplicate efforts. By tapping into the existing energy, Mass Culture can play a role by connecting and promoting arts and cultural research, updating old data, and addressing research gaps that exist across regions, disciplines, and issue areas.
While an organizational model for Mass Culture was created and refined throughout the 2017-18 consultations, Mass Culture has a fun, frenetic initial impression of what a highly connected hub with existing organizations and networks could look like: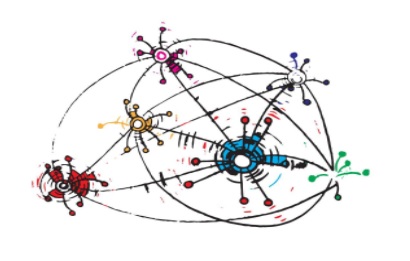 Visual depiction created by Tara Mazurk & Clayton Windatt
Mass Culture Groups:

A number of groups have been struck to support the Mass Culture initiative during the start-up phase. If you are interested in taking an active role in the Mass Culture initiative, please contact Kathryn at info@massculture to participate in a group, or discuss other ways to collaborate.
Operations Group: This group contributes towards the organization's key operations such as its financial and human resources, organizational inner workings (bylaws & policies), and the foundational elements of its three-year work plan.
Kristian Clarke
Kate Cornell
Clare Daitch
Emmanuel Madan
Kenji Maeda
Tara Mazurk
Kristen Pauch-Nolin
Kathleen Sharpe
Robin Sokoloski
Clayton Windatt
Engagement Group: This group contributes towards Mass Culture's Knowledge Mobilization plan (Gatherings, MC Minds, Resource Centre, and other activities that engage individuals in arts research) to ensure that Mass Culture is adhering to its guiding principles and meeting the needs of its network.   
Fanny Martin, Group Conduit
Mary Blais
Brenda Leadlay
Kallee Lins
June Park
Network Group: This group contributes towards the building of Mass Culture's Research & Evidence Infrastructure Plan by generating strategies to grow a healthy network and stewarding connections.
Michelle Yeung, Group Conduit
Mary Blais
Mariana Castellanos
Marnie Gladwell
Konrad Skorupa
Robin Sutherland
Communications Group: This group contributes towards design and dissemination strategies for the promotion and coordination of various initiatives through social media and traditional media while helping to develop key messages for various initiatives.
Ainslee Beer, Group Conduit
Mary Blackstone
Joanna Prescod
Meg Shannon
Jasmine Spei