MC Minds Podcast, hosted by Mindy Doherty Griffiths, partners with Stephen Hurley and voicEd. Listen to MC Minds and the voicEd radio podcast series on Soundcloud and on the Ontario Trillium Foundation's Knowledge Centre.
Diana Carter and Sharon Jeannotte
Zainub Verjee and Narendra Pachkhédé
Naghmeh Sharifi, Hannah Claus & Jean-Philippe Uzel
---
Michael Maranda
Michael Maranda's longitudinal research entitled Waging Culture examines the socio-economic status of visual artists across Canada.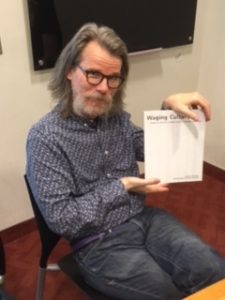 About Michael: Michael Maranda is assistant curator at the Art Gallery of York University. For the past thirty years he has been engaged with the visual arts sector in Canada, as artist, organiser, administrator, curator, editor, advocate, publisher, critic, and, more recently, as quantitative researcher. His Waging Culture survey has set the mark for advocacy-based quantitative research in the sector, recognised as the go-to source for socio-economic information on Canadian visual artists. He runs the publishing activities of the AGYU, and is a prolific commenter on social media.
Maranda was educated at the University of Ottawa (political science), Concordia University (photography), and the University of Rochester (visual and cultural studies). His work has shown internationally, primarily in artists book-related venues. For some deeply ironic reason, his rip-off of Ed Ruscha's Twentysix Gasoline Stations was exhibited in several of Gagosian's gallery spaces.
You can see more of Michael's research at the Art Gallery of York University's website.
---
Margo Charlton
Margo has worked in the arts for over three decades as a community-engaged artist, theatre producer, consultant, and grants officer.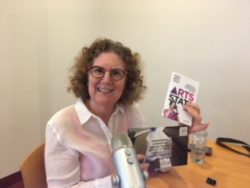 About Margo: Margo was the founding artistic director of Popular Theatre Alliance of Manitoba and a member of the steering committee of the Canadian Popular Theatre Alliance. Her work in community-based theatre took her to events, conferences and symposiums across Canada and to Cuba, Brazil, Nicaragua and Panama.
More recently, she has developed art-based research methods and conducted program evaluations and strategic planning for arts and community organizations.
In 2002, Margo became the Toronto Arts Council's Theatre Officer and in 2016 was appointed Research and Impact Manager for Toronto Arts Council and Toronto Arts Foundation. Some of her projects include: lead researcher for Transforming Communities Through the Arts, a SSHRC-funded study of three Toronto neighbourhoods; managing Arts Stats, an annual Toronto public opinion poll about the arts; and evaluation of TAC programs focusing on arts access.
References: 
---
Diana Carter and Sharon Jeannotte
Diana Carter and Sharon Jeannotte discuss the research report produced by the Ottawa Culture Research Group, Counting on Culture: Impacts and Indicators in Ottawa, which provides insights drawn from Ottawa's most comprehensive compilation of culture indicators.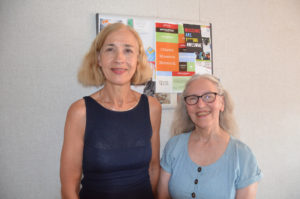 Diana Carter has an educational background in social work and more than 30 years experience in leadership roles in the community and national organizations – in Canada and the UK, Currently the Executive Director for the Ottawa Museum Network, Diana is knowledgeable and experienced with the operations of voluntary sector, not-for-profit, community and public sector organizations. She is a member of the Ottawa Cultural Alliance, and co-chair of the Ottawa Cultural Research Group & Ontario Network of Regional Museums Networks (RMN).
M. Sharon Jeannotte is Senior Fellow at the Centre on Governance of the University of Ottawa.  From 2005 to 2007, she was Senior Advisor to the Canadian Cultural Observatory in the Department of Canadian Heritage.  Before that, she was the Manager of International Comparative Research in the Department's Strategic Research and Analysis Directorate. She has published research on a variety of subjects, including the impact of value change on Canadian society, international definitions of social cohesion, the points of intersection between cultural policy and social cohesion, the role of culture in building sustainable communities, culture and volunteering, immigration and cultural citizenship, cultural mapping as a tool for place-making, and provincial / territorial cultural policy and administration in Canada.
---
Christine Pellerin
Christine Pellerin speaks to the report, "More Than Money: How Social Finance Can Build Resilience in the Arts Sector" by Christine Pellerin and Elizabeth MacKinnon, released through the Metcalf Foundation.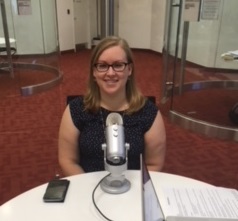 Christine Pellerin is a fundraiser, arts administrator, and researcher with 15 years' experience in the performing arts industry, having worked with some of the country's leading cultural institutions including the Toronto Symphony Orchestra, The Theatre Centre, Soulpepper Theatre, Harbourfront Centre, TIFF, the National Ballet of Canada, and Cirque du Soleil. She is currently the Manager, Governors Council at the Shaw Festival in Niagara-on-the-Lake where she is responsible for stewarding their mid-level donor program. 
A passionate advocate for the non-profit sector, Christine's research has focused on the power of social finance to catalyze new ways of funding arts initiatives. Her work as an Innovation Fellow with the Metcalf Foundation led to the co-authored report entitled More than Money: How social finance can build resilience in the arts sector.  She is an alumna of the Banff Centre's Getting to Maybe: A Social Innovation Residency program and is a member of the Toronto Arts Council's 2018 Cultural Leaders Lab. A lifelong learner, Christine holds a Bachelor of Arts (Hons.) in Theatre from York University, a post-graduate certificate in Arts Administration from Humber College, and is a first-cohort graduate of Carleton University's Masters of Philanthropy & Nonprofit Leadership program. She is proud to serve as a board member for Cahoots Theatre and the CANVAS Foundation
---
Zainub Verjee and Narendra Pachkhédé
In this podcast we engage with the Massey Report premised on the recent critical essay by Zainub Verjee in Canadian Art titled "The Great Canadian Amnesia."  Zainub is joined by Narendra Pachkhédé in discussing the politics of the report as well as how the essay engages with the Report.
Zainub Verjee is a media artist, curator, writer, arts administrator and public intellectual. As an accomplished leader in the art and culture sector, over four decades, she has shaped culture policy at all levels of governments and significantly contributed to building of cultural institutions and organizations in Canada and internationally. Often invited to speak nationally and internationally, on cultural policy, contemporary art and cultural diplomacy, she has been a prolific writer on issues pertaining to Art and Culture. Her artwork has been shown internationally, including at the New York's Museum of Modern Art, the Portland Institute of Contemporary Art and the Venice Biennale.
Narendra Pachkhédé, is a Commonwealth Scholar, with a broad-based scholarship in Anthropology, Foreign Affairs, Cinema, Contemporary Art, Architecture and Public Policy. He has pursued his doctoral studies in Canada and works at cross section of philosophical inquiry, social theory, politics of ideas and systems of knowledge production and its registers. He is a multidisciplinary artist, curator and critic. Discourse oriented, through his procedures of pedagogy and exhibition, he fosters collaborations and interventions at range of sites, events and networks. As a multidisciplinary artist with a research based practise, he engages with multiple temporalities and epistemologies of the creative process and its manifestations.
---
Judith Marcuse
In this podcast, we discuss art for social change with Judith Marcuse and the collaborative research shared through the International Centre of Art for Social Change. In building on this research, conversations among the community-engaged art for social change sector and with government helped to inform and develop a Policy Recommendations document. 
Judith Marcuse, Artistic Producer of Judith Marcuse Projects and Co-Director of the International Centre of Art for Social Change, is one of Canada's senior artists/producers with an international career that spans over 50 years as dancer, choreographer, director, producer, teacher, writer and lecturer.
She has created over 100 original works for dance, theatre and opera, for film and television, and has produced seven large-scale arts festivals. Her repertory dance company toured internationally for over 15 years, including the creation of innovative community and youth programs. A pioneer in the field of community-engaged art for social change (ASC), her work in and on behalf of this arts discipline (including a current, six-year research initiative) is internationally-recognized.
Marcuse has received many awards, including an honorary doctorate from Simon Fraser University where she has created a two-year graduate program in ASC.
---
Miranda Campbell
In this podcast, Miranda Campbell discusses her community youth arts report, and her research on children and youth in the arts and creative industries.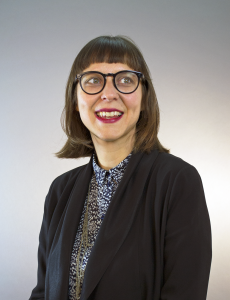 Miranda Campbell is an Assistant Professor in the School of Creative Industries at Ryerson University. Her research focuses on creative employment, youth culture, and emerging and small-scale forms of creative practice. Her book, Out of the Basement: Youth Cultural Production in Practice and in Policy, was shortlisted for the 2014 Donner Prize for the Best Public Policy Book by a Canadian. She is the chair of the Board of Directors of Whippersnapper Gallery and a former coordinator of Rock Camp for Girls Montreal.
---
Kwende Kefentse
In this podcast, Kwende Kefentse discusses his research into the connection between culture, space, public policy and economy. You can find out more about Kwende's work here.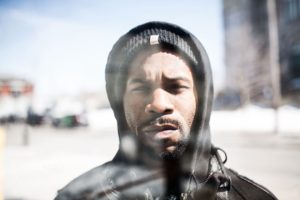 Born and raised in the Greater Toronto Area, Kwende is currently back in Ottawa after completing his MRes in London with The Bartlett's Space Syntax Lab (UCL) in 2017 / 2018. Fascinated by cities, his array of professional ventures reflect different explorations and investigations into how they function, with a particular focus on the connection between culture, space, public policy and economy.
As an established practitioner, policy maker and public thinker in this nexus of subjects, Kwende is frequently invited to keynote conferences and participate on panels, both locally and internationally, in the worlds of urban planning, creativity + culture and the music industry. His projects and ideas have been featured in international outlets like CityLab (The Atlantic), Spacing Magazine, and Monocle Radio to name a few.
Kwende works as the Cultural Industries Development Officer at the City of Ottawa, in an award-winning Cultural Development and Initiatives team. He played a leading role in developing the council-approved Renewed Action Plan for Arts, Heritage and Culture (2013 – 2018) and other strategic initiatives for the sector. He also successfully led a music industry development initiative in partnership with local music business leaders and the City's Economic Development staff. Recent achievements include the Connecting Ottawa Music industry profile, the launch of the MEGAPHONO conference + showcasing festival, the birth of the Ottawa Music Industry Coalition, and the development of the Ottawa Music Strategy.
As DJ Memetic, Kwende has had a major impact on Ottawa's underground dance scene for over a decade. Cutting his teeth on campus radio, Memetic co-founded TIMEKODE, one of the city's longest-running, and most beloved dance parties. His solo + TIMEKODE original productions and remixes have been released on his own label, Memeplex, to critical acclaim from international outlets like Vice Thump, Radio Nova, and Wax Poetics.
---
Naghmeh Sharifi, Hannah Claus & Jean-Philippe Uzel
In this podcast, Naghmeh Sharifi, Jean-Philippe Uzel and Hannah Claus discuss professional practices in visual arts arising from Indigeneity and Diversity in Montréal (French version available HERE).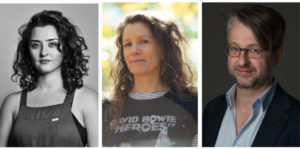 Left to right: Naghmeh Sharifi, Hannah Claus, Jean-Philippe Uzel
Naghmeh Sharifi
Artist's Statement: My work is focused on the human form and psyche. By placing the body as a recognizable yet universal form in ambiguous situations I explore its psychology in relation to itself and to its environment. Through experimentation in various mediums I depict notions of in-between, probing the human experience of space and geography. I invite the viewer into these wordless maps that I create, which permeate boundaries as much as they help build them. www.naghmehsharifi.com
Biography: Naghmeh Sharifi is an Iranian/Canadian Multidisciplinary artist based in Montreal. She holds a BA in visual arts and one in psychology from the University of British Columbia.  Since 2006, her work has been exhibited in Tehran, Berlin, Mexico City, Los Angeles, Toronto and Skopje. In Montreal, she has presented her work at such sites as Montreal Council of the Arts (2015) Leonard & Bina Ellen Art Gallery (2017) and the MAI (Montreal intercultural arts) (2018). In 2015, Naghmeh was the recipient of the Impressions Residency at the Montreal Museum of Fine Arts. Naghmeh recently completed an MFA (concentration Painting and Drawing) at Concordia University. Get to know Naghmeh •  Instagram & Facebook
Hannah Claus
Hannah Claus est une artiste visuelle de descendance anglaise / irlandaise et Kanien'kehá:ka [Mohawk]. Elle vit et travaille à Tiohtià:ke [Montréal] où elle a complété sa Maitrise en beaux-arts de l'Université Concordia en 2004. Dans sa pratique, Claus crée des œuvres qui priorisent une perspective autochtone et Haudenosaunee [Iroquoise] en s'engageant avec la mémoire, l'espace et le temps. Ses installations se trouvent dans les collections publiques du Musée des beaux-arts du Canada, la Banque d'art du Conseil des arts du Canada, la Ville de Montréal, et le Ministère des Affaires mondiales Canada, entre autres. Claus est membre de la communauté Tyendinaga – Mohawks of the Bay of Quinte en Ontario. Apprenez à connaître Hannah Claus
Hannah Claus is a visual artist of English / Irish and Kanien'kehá:ka [Mohawk] heritages. She lives and works in Tiohtià:ke [Montreal] where she completed her Masters of Fine Arts at Concordia University in 2004. In her practice, Claus creates artwork that explores Indigeneity, particularly through a Haudenosaunee [Iroquois] perspective, as a living current experience, through engaging with memory, space and time. Her installations and artworks may be found in public collections such as the National Gallery of Canada, the Canada Council Art Bank, the City of Montreal and Global Affairs Canada. Claus is a member of Tyendinaga – Mohawks of the Bay of Quinte in Ontario. Get to know Hannah Claus
Jean-Philippe Uzel
Jean-Philippe Uzel is a professor of art history at Université du Québec à Montréal (UQAM) and a member of the Centre interuniversitaire d'études et de recherches autochtones (CIÉRA). His area of expertise is the history and theory of modern and contemporary art, with a focus on the relationships between art and politics. For the past 20 years he has brought this perspective to his interest in Indigenous and culturally diverse contemporary art in North America. From 2012-2013 he was Chair of Contemporary Québec Studies at the Université Sorbonne Nouvelle – Paris 3; his research program addressed differing perspectives on contemporary Indigenous art in North America. He is the author of the study Professional practices in visual arts arising from Indigeneity and diversity in Montréal (Conseil des arts de Montréal, 2018). Get to know Jean-Philippe