Research in Residence: Arts' Civic Impact
Research Reports released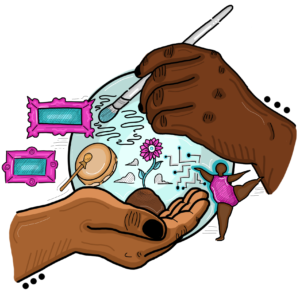 The Researchers in Residence: Arts' Civic Impact initiative will implement on-the-ground research, identify indicators, and collect, analyze and interpret data. It will be guided by an Advisory Committee of the project's partners, and will be facilitated and documented by Robin Sokoloski at Mass Culture and Mary Elizabeth Luka at University of Toronto Scarborough. When completed, this national research model, including five qualitative impact frameworks, will be shared publicly. 
The Researchers in Residence: Arts' Civic Impact initiative is a collaboration between Mass Culture, the Canada Council for the Arts, the Culture Statistics Working Group (Federal-Provincial-Territorial Culture and Heritage Table), the Ontario Trillium Foundation, and Toronto Arts Foundation.
The initiative will engage researchers from each of the following institutions: McGill University, Emily Carr University's Aboriginal Gathering Place, University of Winnipeg, Dalhousie University, and Carleton University.
The researchers and their specific arts' civic impact area of focus are: Sydney Pickering, Indigenous Cultural Knowledge; Emma Bugg, Climate and Sustainability; Aaron Richmond, Health and Wellbeing; Shanice Bernicky, Diversity and Inclusion; Audree Espada and Missy LeBlanc, Diversity and Inclusion. 
"The Research in Residence project represents a whole new level of collaboration across the arts community, arts funders and academia to advance arts impact research in Canada". Liz Forsberg, Lead, Partnership Investments, Ontario Trillium Foundation.
"Mass Culture is thrilled to bring together a diverse group of researchers, an advisory group and link with them arts organizations and festivals across Canada. Researchers will work closely with arts organizations to create in-depth analyses of civic impact of the arts, including issues of anti-racism, equity, Indigenous cultural knowledge, health and wellness, and climate change. This collaborative work will create a national research model that Mass Culture will share openly with the arts and cultural sector." Clare Daitch, Co-Chair Operations Group, Mass Culture.
"The Canada Council for the Arts is pleased, through a great collaboration with other funders, to support the Research in Residence: Arts' Civic Impact project, which is aligned with its Qualitative Impact Framework. This initiative will help the broader arts community explore the impact it has on their communities and society at large" Gabriel Zamfir-Enache · Director, Research, Measurement and Data Analytics at Canada Council for the Arts
Organizations and festivals interested in hosting a researcher: a Call for Interest will be made available soon. Join our newsletter to stay informed when it becomes available.
Click the videos below to find out more about the researchers and their areas of interest!
TOPIC: Diversity and Inclusion
Proficient in English and French
TOPIC: Climate and Sustainability
TOPIC: Diversity and Inclusion
TOPIC: Diversity and Inclusion
TOPIC: Health and Wellbeing
Proficient in English and French
TOPIC: Indigenous Cultural Knowledge
University of Toronto Scarborough & Critical Digital Methods Institute
Ontario Trillium Foundation
Canada Council for the Arts
Canada Council for the Arts
Participating Universities
Biographies des chercheurs
Shanice Bernicky (she/her/elle) is a media maker and doctoral student at Carleton University's School of Journalism & Communication. Bernicky is interested in the relationship between identity, belonging, and equity, diversity and inclusion practices in settler-colonial states. She completed a Master's research-creation thesis in Media Studies at Concordia University, exploring themes of heritage and mixed-race identity from axis point of natural Black hair. As a freelance video editor, she has worked on a myriad of projects on rich topics such as Indigenous laws and practices outside the settler-Canadian legal framework, research for the vitality of English-Speaking communities within Québec, and environmental issues connecting the East and the West. At Carleton, her work investigates the link between Canadian policy and the creation of diverse and inclusive television.
Emma Bugg (she/her) is pursuing a Master of Environmental Studies at Dalhousie University. Through the Mass Culture Arts' Civic Impact research project, Emma is exploring the intersections of art, climate change, and environmental sustainability by working in residence with an arts organization to develop an impact framework to better understand, amplify, and enhance the contributions of the arts towards addressing the climate crisis. Prior to beginning her studies at Dalhousie University, Emma worked at the Ottawa based non-profit Evidence for Democracy as the Communications and Campaigns Manager. She holds a Bachelor of Arts Honours from the University of Saskatchewan.
Audree Espada is currently a graduate student at the University of Winnipeg, where she is completing her Master of Arts in Cultural Studies (Curatorial Practices). Having grown up in a city like Los Angeles, Audree understands the value of proper representation of diverse communities in the arts and humanities. After obtaining a Bachelor of Arts in Anthropology at the University of California – Santa Barbara, Audree worked as an archaeologist and museum professional in California, Colorado, and New Mexico. Audree draws upon her many years of field experience to highlight and uplift diverse voices in museum and gallery spaces.
Missy LeBlanc (Métis, nêhiyaw, and Polish) is a curator, researcher, and writer based in Mohkinstsis/Calgary where she is currently the Curatorial Resident at TRUCK Contemporary Art. In 2019, she was the winner of the Middlebrook Prize for Young Canadian Curators and a runner-up for the Canadian Art Writing Prize. LeBlanc holds a Bachelor of Arts from the University of Alberta, double majoring in the History of Art, Design, and Visual Culture and Sociology and a Diploma in Arts & Cultural Management from MacEwan University. In September 2021, LeBlanc will be starting graduate studies at the University of Winnipeg where she will be working towards obtaining a Master of Arts in Cultural Studies, Curatorial Practices.

Her recent curatorial projects include Atautchikun | wâhkôtamowin (2021, forthcoming), Tina Guyani | Deer Road (2019) and Reverberate (2018). As the inaugural Emerging Curatorial Resident at TRUCK Contemporary Art, LeBlanc curated two exhibitions—Taskoch pipon kona kah nipa muskoseya, nepin pesim eti pimachihew | Like the winter snow kills the grass, the summer sun revives it and Mamanaw Pekiskwewina | Mother Tongues—organized a one day gathering, and wrote and designed a risograph publication centered on Indigenous language revitalization and epistemologies in November/December 2019. The project will now be going on tour across so-called Canada throughout 2021-2022.
Aaron Richmond is an interdisciplinary artist and PhD candidate in the History and  Theory of Architecture program at McGill University. His doctoral project addresses the medicalization of Modern art and architecture within the French periodical L'Esprit  nouveau (1920 to 1925).  
Prior to studying at McGill, Aaron received a BA from the University of King's College,  an MPHIL from the University of Cambridge, and an MFA from the Maryland Institute  College of Art. He was the recipient of the 2015 Milton and Sally Avery Fellowship, the  
2016 Robert Motherwell Fellowship (both awarded through the Fine Arts Work Center in  Provincetown, MA) and was the 2017-2018 P. Lantz Artist in Residence at McGill  University. His doctoral work is supported by grants from the Fonds de Recherche du  Québec and the Joseph-Armand Bombardier Canada Graduate Scholarship. His art critical writing has appeared in the Brooklyn Rail and e-flux.
Sydney Frances Pickering is a member of Lil'wat nation. She is currently  living and working on the unceded territories of the xʷməθkʷəy̓ əm  (Musqueam), Sḵwx̱wú7mesh (Squamish), and Səl̓ílwətaʔ (Tsleil-Waututh)  peoples.  
Her multi-disciplinary practice includes hide tanning, video, sound, beadwork  and poetry. She uses her practice to tell her family's story, speak about  identity and what it is like navigating as an Indigenous person within a  colonial society. Her work over the past few years is grounded by her  continued connection to land-based material practices.