A collaborative support organization that takes a community based approach to providing diverse parties with the context and connections needed to enhance the equitable mobilization of arts and culture research. By convening cultural workers and academics, Mass Culture provides a platform for knowledge to be explored, widely understood, and mobilized.
Created in collaboration with Mass Culture's Working Groups, this Strategic Plan lays out Mass Culture's six strategic priorities that will guide our current and future activities. We hope that this Strategic Plan will help to shape and share Mass Culture's story with our Network and the broader public.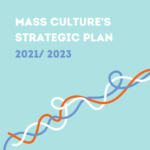 In 2015, a group of 5 arts practitioners came together to dream about what a national arts research infrastructure might look like. Since then, the Mass Culture Network, or MCNetwork, has grown to over 700 individuals, both within Canada and internationally. The vast majority of these individuals are public service employees, sector service organization/network employees, or arts organization staff members. Community advocates, arts consultants, academic researchers, individual artists and post-secondary executives are also represented.
In 2018, Mass Culture began community conversations to consider its structure and determine existing knowledge gaps in Canada's cultural sectors. 25 Gatherings, funded by Toronto Arts Council's Open Door Program, took place over 2018/19. Also during this time, Mass Culture worked with students from OCAD University's Strategic Foresight and Innovation program in order to shape a business model. Mass Culture has, additionally, partnered with the Ontario Trillium Foundation, whose support is allowing Mass Culture to work with arts communities across Canada to plan for the coming 3 years.
As of September 2019, Mass Culture is a charitable organization, having taken on the charitable number of the Canadian Conference of the Arts. Read more: CCA communiqué de presse, CCA Press Release.
HANDBOOK OF POLICIES AND PROCEDURES
Mass Culture's Operations Group, with input from other Working Groups, developed this policy handbook for Mass Culture. 
A number of one-pagers have been extracted, below, to ensure easy access.
Audited Financial Statements
See Mass Culture's Audited Financial Statements from 2020-23.
Mass Culture's Research Agenda
As determined through conversations with the sector
Mass Culture's Research Priorities are: 
• Framing Arts Impact by conveying the value of the arts in society; 
• To create a Community of Practice for arts research; 
• To conduct Research About the Arts Sector, allowing us to get to know ourselves better.
VISION, PURPOSE & MISSION
VISION: WHERE MASS CULTURE IS GOING
By circulating robust, inclusive research through a healthy network, Mass Culture will deepen the capacity of communities to develop an interconnected Canadian arts sector, empowered to reflect and make informed decisions towards a future in which the arts sector in Canada can thrive.
PURPOSE: WHY MASS CULTURE EXISTS
Mass Culture is committed to ensuring all communities have the ability to mobilize and benefit from arts and culture research.
MISSION: WHAT MASS CULTURE DOES
Mass Culture is dedicated to recognizing, undertaking and disseminating professional research that is relevant to the Canadian arts community. By convening cultural workers and academics, Mass Culture provides a platform for knowledge to be explored, widely understood, and mobilized.
THE CODE THAT GUIDES MASS CULTURE'S WORK
Engaging cultural pluralism and diverse perspectives through the work
An ongoing practice of defining and improving access with communities
Implement and evaluate Mass Culture's decent work practices in service to the sector, our team(s), and each employee
RECONCILIATION & RELATIONSHIP DEVELOPMENT
Making collaborative action toward mutually beneficial goals between Indigenous and non-Indigenous communities
Deepen relationships and creative approaches that address the needs of the sector across generations
Ongoing evaluation to improve Mass Culture's work. Commit to sustainable practices in operations, programming, and projects
Conducting ethical research, collecting accurate data, valuing transparency, and embracing debate
FREQUENTLY ASKED QUESTIONS
Mass Culture's operations, and the materials found on this page, are spearheaded by Mass Culture's Operations Working Group. You can find out more about them on the MC Network page.