Arts Service Organizations
Positioning a Future Forward
It is time to bring the ASO community together to investigate the challenges our sector faces, and to advance our ideas for addressing such challenges. 
We invite you to join a future-oriented exploration – one we believe will lead to better lives for artists and arts workers, and greater access to arts experiences for all, and greater equity for under-represented and marginalized voices. 
We understand that success in this exploration depends on centering under-represented voices, while also recognizing how power, money and status has driven, and continues to drive decision-making and allocations of resources.
Through this work, we commit to prioritizing equity not only as our own challenge we must find solutions for, but for prioritizing the actions we will focus on through an equity-based decision-making process.
As the first step, we have organized an OPEN CALL for challenges and ideas that…
ASOs can work on together to think through solutions;
the arts sector is challenged by; OR
that arts either intersect with or is working through internally; AND
Lead to more equitable outcomes.
Challenges/ideas can relate to any of the following topics
Affordable Space
Arts Data
Arts' Impact 
Climate & the Arts
Cultural Participation
Digital Strategies 
Diversity & Social Inclusion
Governance 
Health & the Arts 
Pandemic Effects 
System Change
Truth & Reconciliation
Training
Working as Artists
Brand new themes are welcome too.
The Story Behind This Initiative
Arts Service Organizations have a long history of convening. We naturally gravitate towards one another, whether by jurisdiction (NASO meetings in Ottawa), during a day of arts advocacy (Arts Day in the City, or Arts Day on the Hill in Ottawa), or, since the beginning of the pandemic, every Monday over Zoom with regular communications through the COVID ASO Slack Workspace. We come together for good reason: we care about our arts sector, and see the power of collective action. We are fuelled by our individual constituents, and recognize that we need to see beyond our own organizations' agendas. This is why we come together to plan and act: so we can collectively support a thriving, creatively vibrant arts sector.   
The Monday ASO Group meetings facilitated by Frédéric Julien of CAPACOA over the last two years have kept many of us connected to one another.
"I start every week with the people of this network. They have been essential to my own personal and professional well-being and that of our association and our members." Christina Loewen, Executive Director, Association for Opera in Canada
It is through the energy – and the limitations – of this group that ASOs: Positioning a Future Forward came to be. With so many issues to address and such limited time to work on them, we recognize that a new forum and new ways of working are required.  This event series is an effort to broaden the reach of this exchange, share the issues that matter most to us, and create an intentional and well-supported space to think through possible solutions together. This exploratory journey will impact the sector and ourselves.  
Through ASOs: Positioning a Future Forward, Mass Culture is collecting challenges and ideas that will, through an interactive process, determine 5 priorities for ASOs to explore.
The exploration, funded in part by the Canada Council for the Arts, will unfold over the next year through a number of stages.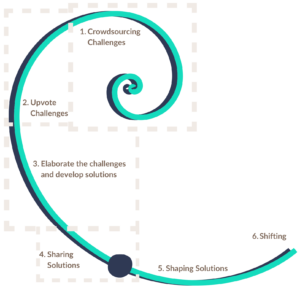 If you work or volunteer for an ASO, or are served by an ASO, we need you to share the challenges or ideas that you care about, and which you might be interested in exploring collectively with others. Here's how…
Think about: What changes need to be made? What gaps need to be filled? Who needs to be supported?
Challenges and Ideas might include: 
Something ASOs can work on together to think through solutions;
Something the arts sector is challenged by internally; OR
Something outside the arts sector that intersects with the arts.
Your submission will be displayed publicly
Once you've clicked "Submit", check it out in this GALLERY to make sure you're satisfied with how it's displayed. Email alexandra@massculture.ca if any alterations are needed. 
Submit as many challenges as you'd like and request of your ASO colleagues that they do the same.
Submit as many challenges as you'd like and ask your ASO colleagues that they do the same.
Check back after May 10th with instructions or sign up below.
Work with people who share our interests, through a well-supported and facilitated process,  to elaborate the challenges and develop solutions.
Share and build on our solutions with peers from across Canada at a hybrid event (more details coming soon).
This group works in consultation with many others. This process is an experiment. We encourage you to reach out to us at robin@massculture.ca at any time to discuss this process.
The Planning Committee greatfully acknowledges the contributions made by the following people:
Made possible through the support of