This webpage will be updated as the initiative progresses. Last update: July 2022
Arts Service Organizations
Positioning a Future Forward
It is time to bring the ASO community together to investigate the challenges our sector faces, and to advance our ideas for addressing such challenges.
What is Arts Service Organizations: Positioning a Future Forward
We invite you to join a future-oriented exploration – one we believe will lead to better lives for artists and arts workers, and greater access to arts experiences for all, and greater equity for under-represented and marginalized voices. 
We understand that success in this exploration depends on centering under-represented voices, while also recognizing how power, money and status has driven, and continues to drive decision-making and allocations of resources.
Through this work, we commit to prioritizing equity not only as our own challenge we must find solutions for, but for prioritizing the actions we will focus on through an equity-based decision-making process.
As the first step, we invite you to take part in conversations that…
ASOs can work on together to think through solutions;
the arts sector is challenged by; OR
that arts either intersect with or is working through internally; AND
Lead to more equitable outcomes.
Current Phase: Solution Pathway Topics*
How might we develop a shared plan for inclusion?
How might we demonstrate the arts' value through evidence to reveal the human side?
How might we continue to build the infrastructure and knowledge bases needed to meaningfully work with different communities?
How might we assist in the permanence and present nature of the arts?
How might we support artists from getting lost in the digital world?
NOTE: Each topic will also commit to exploring existing resources and the development of new ones with specific attention to tools that are affordable and accessible to the arts sector. Additionally, Human Resources and strategies for building better working conditions within the sector will also be addressed. 
* A series of online lead-up sessions before the ASO conference in January 2023.
SAVE THE DATE ASO GATHERING IN TORONTO: JANUARY 23rd & 24th 2023.
This spiral is a visual representation of the various stages of this project. Right now, we are preparing for phase 3: Solution Pathways, which will run from September to January.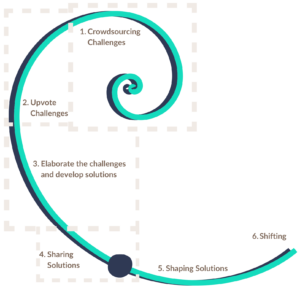 Opportunity: Looking for Five Solution Pathway Facilitators
This group works in consultation with many others. This process is an experiment. We encourage you to reach out to us at robin@massculture.ca at any time to discuss this process.
The Planning Committee greatfully acknowledges the contributions made by the following people:
Made possible through the support of